Domestic Violence Awareness Month is a time to reflect on the struggles faced by survivors – and to draw attention to efforts to help them move forward. At LAFLA, we serve more than 1,500 survivors at our domestic violence clinics each year: obtaining protective orders against their abusers, working to keep their families together, and helping rebuild their lives. We also help survivors with other legal challenges they may face, many of which are directly related to their abuse.
According to Pro Bono Director Phong Wong, "Our work on behalf of survivors would not be possible without our dedicated pro bono volunteers, who generously donate thousands of hours annually to help our clients and expand the free legal services that LAFLA provides." At our Santa Monica Domestic Violence Clinic, two amazing volunteers have been serving our clients and supporting our mission for years: Grace Mitsuhata and Judge Lee Bogdanoff. Grace has volunteered at the clinic for more than a decade; and Judge Bogdanoff was also a regular until his recent appointment to the bench of the Superior Court of California.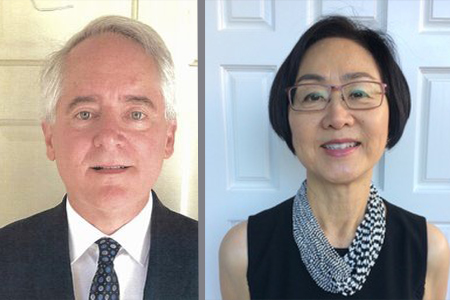 We spoke to both volunteers about their experiences.
---

Please describe the services you provided to domestic violence survivors while volunteering for LAFLA.
JB: At the clinic, under the supervision of the amazing full time LAFLA attorneys, I mainly counseled victims of domestic violence and, where appropriate, helped them apply for temporary and permanent protective orders. On occasion I assisted our clients at their preliminary hearing. 
GM: As a volunteer at the clinic, I interview and advise clients who are seeking a domestic violence restraining order (DVRO) on an emergency basis against a person with whom the client is involved, typically a former romantic partner or spouse and not infrequently, another family member. If the client and abuser share minor children or are married, I have, with consultation with the supervising LAFLA attorney, analyzed and reviewed intersecting family law issues and possible courses of action with the client. The volunteers also provide information to the clients on resources for domestic violence victims such as shelters, counseling, and group support services, and regularly advise clients during each phase of the DVRO process.
What are some highlights from your volunteer service?
GM: Over the 10 years I have volunteered at the clinic, I have worked with hundreds of clients. Their individual stories have touched me, angered me, saddened me, inspired me, and heartened me. But what I have cherished the most as a volunteer for LAFLA, is the shared dedication and enthusiasm of the many LAFLA attorneys and fellow volunteer attorneys with whom I have had the pleasure of working. As the volunteers interview clients, we continually consult with the various supervising LAFLA attorneys as well as each other to "brainstorm" in deciding what the best course of action or advice would be for the client. The volunteers represent a broad diversity of legal backgrounds which leads to lively back and forth discussions. I cherish the many friendships I have made through the DV Clinic.
JB: It is hard to think about my time as a LAFLA volunteer without becoming emotional. I think about the brave women who made the decision to seek help, typically taking time off work or away from their children to come to the clinic. I often spoke to them about the trauma they are suffering and the need to seek professional counseling. After working with our clients on the moving papers, I liked to walk with them to the filing window, as I offered some parting advice but mostly to give me a few more moments to bask in their bravery and grace. 
How has volunteering for LAFLA impacted you?
JB: I spent most of my adult life interacting with people of privilege. This experience allowed me to meet and help people who were suffering. I learned more from them about perseverance and bravery than words can describe. I think about the client who jumped out of a moving car as her abuser pointed a gun at her head. I think about the pictures I took of the victims' arms and faces, battered with black and blue markings, to submit as evidence to the court. These are things that will remain with me the rest of my life. 
GM: Volunteering for LAFLA has been very satisfying which is why I've done it for so many years. I started volunteering while I was still working full time but since retirement, I have been able to volunteer on a more regular weekly schedule. It is so gratifying to be able to impact a client's life so positively through the volunteer work we do with LAFLA. It is a rare day that a volunteer doesn't meet at least one client who is in desperate need for a domestic violence restraining order. Coming from a big firm practice, I am so appreciative that I can volunteer for an agency which provides free legal services for clients who do not have the means to retain private counsel.
---

According to Managing Attorney Kevin Mitchell, who oversees our Santa Monica Community Office, "Grace is an invaluable resource, helping low-income clients not only with restraining order applications, but also on issues of custody and family law. She has a deft hand in navigating the most sensitive issues with often distraught clients and is the model of professionalism regardless of the circumstance."  Regarding Judge Bogdanoff, Kevin said, "In addition to Grace, Lee has also given hundreds of pro bono hours to assist survivors of domestic violence seek counsel, advice, and protection from abuse. While his loss will be felt at the clinic, I strongly believe Lee will be an outstanding judge, and we congratulate him on his appointment."
Thank you to both Grace and Judge Bogdanoff and hundreds of other pro bono volunteers for your tremendous service on behalf of domestic violence survivors and LAFLA.