World Refugee Day, held on June 20, is an important day to celebrate and honor the lived experiences of refugees internationally. This event commemorates the strength and morale of refugees who have been forced to flee racial, economic, religious, and gender and sexuality-based discrimination and conflict. Refugees deserve empathy, respect, and support for the challenges they face in rebuilding their lives. At LAFLA, we emphasize a dedicated commitment to culturally sensitive and trauma-informed legal aid access for the most vulnerable groups, which oftentimes include immigrants and refugees.
Our Torture Survivors Project helps immigrants, asylum seekers, and refugees who are survivors of torture with legal assistance and community education. LAFLA's attorneys help these survivors apply for asylum, work on travel documents, naturalization, and family reunification, amongst other things. We feature below some stories of our clients, who come from a variety of regions and have faced many excruciating hardships. These stories are testaments to the strength and courage of our clients and the attorneys and supporting staff who serve them.
Top illustration credit: Brooklyn Iguchi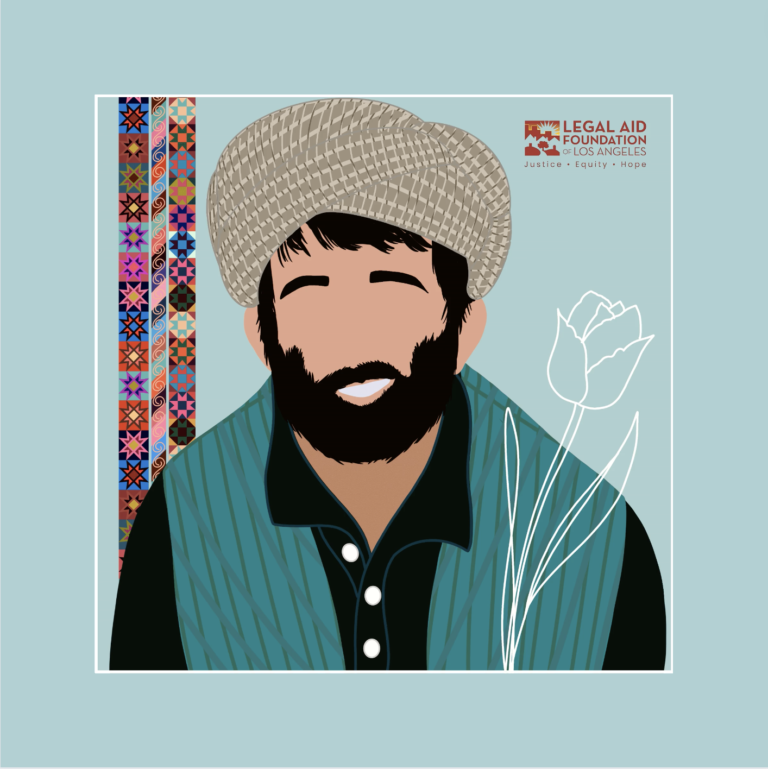 Meet Mohammad, a Leader from Afghanistan
Mohammad* is from Afghanistan. After August 2021, there were numerous reports of reprisal killings by Taliban fighters. The Taliban's actions and announcement of amnesty have led to reports of more than 100 opposition individuals disappearing from murder or torture. Mohammad, for his work with the previous Afghan government, faces retaliation against him and his wife, sons, and daughter. Mohammad and his two young sons were evacuated by the United States military from Kabul, and they went through the long journey from Kabul, to Qatar, to a military base in the United States, until he was finally able to resettle in the community.
Mohammad believes that his evacuation to the United States will mark him as a "traitor" and that the Taliban would harm or kill him for being pro-American if he were to go back. Mohammad and his family were separated in the chaos in the evacuation at the airport in Kabul. He and his two sons were able to board a flight, but his wife and daughter were separated due to Taliban forces attacking the airport. They were unable to be evacuated. Mohammad and many other Afghans like him, continue to worry for their family members in danger, even as they meet the daily challenges of acclimating to a new country and a new culture.
With LAFLA Attorney Christine Yoon, Mohammad applied for asylum protection as well as Temporary Protected Status. He hopes to obtain stable legal status quickly and to reunify with his wife and daughter, who remain trapped in Afghanistan.
*Not his real name.
Top illustration credit: Rachael Kaeko Imes
Second illustration credit: Illustration credit: Brooklyn Iguchi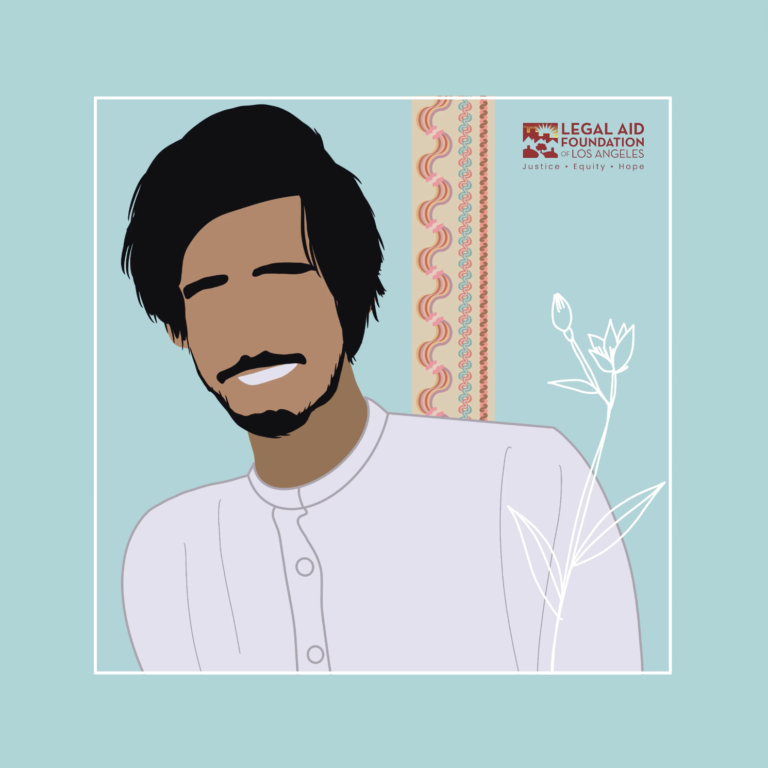 Meet Maung, an Activist from Burma
Maung*, a young man from Myanmar (also known as Burma), is an asylum-seeker applying for protection in the United States. Due to the military coup and security forces' brutal violence against civilians, Burmese people are facing a complex and devastating national humanitarian crisis. Regime security forces have committed arbitrary and unlawful killings on civilians, prisoners, and opposition members. Facing this backdrop of hardship leading up to the military coup in 2021, Maung fought against media censorship and actively participated in country-wide protests against the military rule and asking for the release of elected leaders. The military suppressed these protests with lethal violence.
Maung decided to protest in a different way, using his knowledge of technology. In response to internet blackouts and blocked access to Western news and social media platforms, Maung worked with different VPNs to circumvent the military firewall. He learned from other activist movements, including those in China. He then used his skills to help others obtain access to the internet and social media.
As a result of this activism, Maung and his family were targeted by the military. He was able to flee the country and is now working with LAFLA Attorney Christine Yoon to apply for asylum. He hopes to obtain protection from violent retaliation in his home country, and to build a stable life here in the United States. Maung wants to build the technical skills he started developing in Burma and to further his education in the United States.
*Not his real name.
Top illustration credit: Rachael Kaeko Imes
Second illustration credit: Brooklyn Iguchi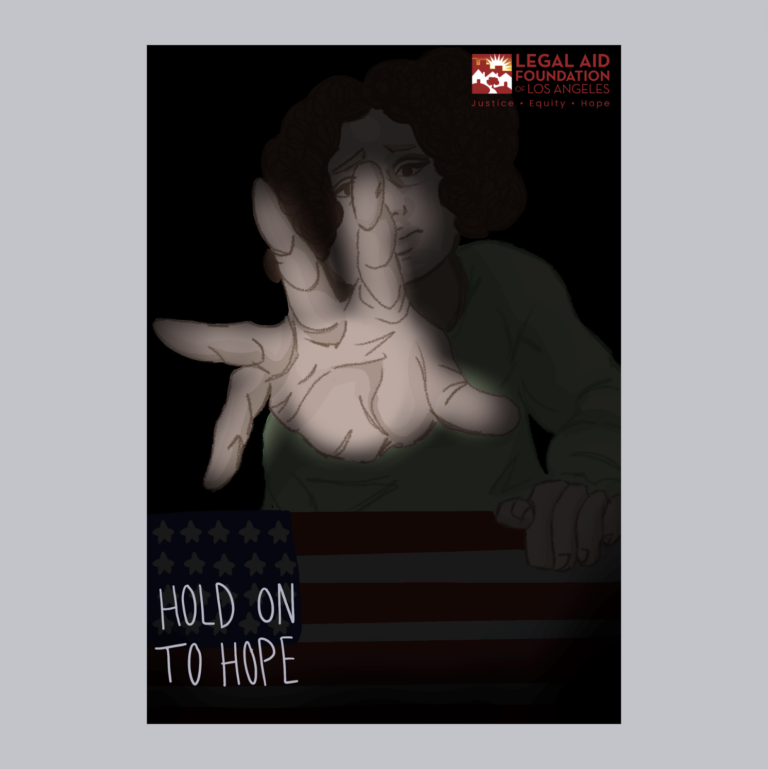 Meet a Cameroonian Family Who Fought for Their Freedom
Mrs. V was tortured for her political opinion in Cameroon. Cameroon has faced longstanding political unrest as a result of geographical, ethnic, and ideological conflicts related to disputes over common law discourse. As a member of the Southern Cameroonian National Council (SCNC), a non-violent organization calling for the independence of two English-speaking provinces in the South of Cameroon, Mrs. V was arrested twice by the police, brutally tortured, and threatened with death. She was forced to leave behind her children when she escaped and entered the United States.
Seven years later, she was granted asylum, as she demonstrated that she suffered persecution based on her political opinion. LAFLA assisted her with filing asylee relative petitions for her children. It took many years before the petitions were approved and her son and daughter were able to enter the USA as derivative asylees. In doing so, she had to leave behind her son and daughters because there is no law allowing for children of derivatives to get status.
Eventually, she was able to reunite with her son, "K," and both of her daughters, Lucy (pictured below at her recent naturalization ceremony) and "A." Originally, Lucy had to leave her infant daughter behind with her sister. "A" won the green card lottery and was about to reunite with her family, but it meant Lucy's daughter would be left in Cameroon with no one to care for her. (Lucy suffered abuse at the hands of her daughter's father.) Mrs. V filed an application hoping that her granddaughter would be granted humanitarian parole. 
LAFLA was able to assist in ending the cycle of separation and trauma when advocates filed an urgent humanitarian parole petition to obtain special permission from the U.S. government to allow the child entry to the USA by showing that the child would become an orphan in Cameroon and would further traumatize this asylee family.  The petition was approved, and Mrs. V's granddaughter was able to reunite with the rest of the family.
A couple years later, all the family members are U.S. citizens. The three generations of this family are now safe and thriving. 
Lucy notes that she is studying to become a registered nurse: "I was an accountant in Cameroon, and it was hard coming here and starting all over, including school from scratch. But being here gives me independence — gives me the opportunity to do what I want to do in this country. I can grow and achieve what I want to achieve."
Lucy adds that she is grateful for the pro bono service of David P. Lefebvre, Special Counsel with Covington & Burling LLP, who helped her through the naturalization process: "I can't thank him enough." David says that seeing Lucy's family thrive was incredibly memorable and inspirational: "Lucy's focus and drive, both in school and in her employment, created the vital stability that has allowed her and her daughter to flourish and succeed. I was humbled to help such a deserving family in its journey to U.S. citizenship."
Illustration credit: Brooklyn Iguchi