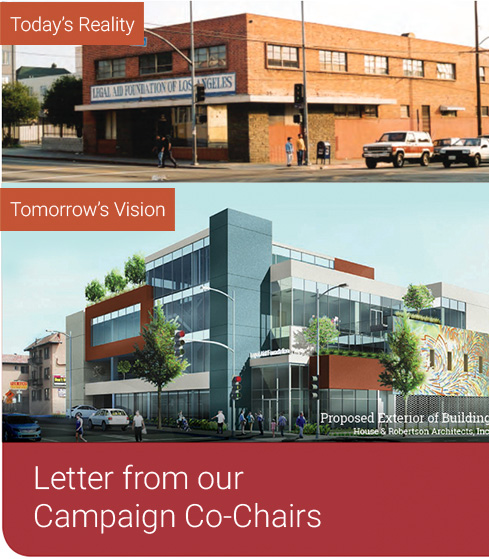 Thank you to our supporters who contributed to the Building Justice Campaign, which led to the construction of our new headquarters building!
Since it was founded in 1929, LAFLA has grown to become one of the largest public interest law firms in the country, making equal access to justice a reality for our most vulnerable neighbors and communities. Today more than ever, keeping the promise of equal justice is no easy task. Los Angeles County has experienced tremendous population growth and gained an even richer diversity in its residents. At the same time, local, state, and federal funding cuts have affected our clients' communities deeply. Despite these daunting challenges, LAFLA's attorneys, paralegals, social workers, support staff, and volunteers continue to share a steadfast belief: that lives are changed by the work LAFLA does.
We are proud that, through the Building Justice Campaign, we were able to secure a viable, permanent home for LAFLA, and to further LAFLA's legacy as a beacon of hope for those with nowhere else to turn.
Architect: House & Robertson Architects, Inc.
Contractor: MATT Construction
Project Manager: S.L. Leonard & Associates