LAFLA attorneys are driven by the mission to achieve equal justice for the undeserved—and in the case of client Diana Scott, that purpose could not have been more pronounced.
When Matthis Chiroux, one of LAFLA's homeless prevention attorneys, met Diana this past summer, he was deeply moved by her situation: Diana's landlord had evicted her family from their rent-controlled apartment in San Pedro, leaving Diana—a paraplegic senior—homeless. Her landlord had pursued, and ultimately obtained, a default judgment against Diana and her family, unbeknownst to them—while receiving rent from Diana, and even increasing the amount. Diana, her partner, and her son had called the apartment home for 18 years.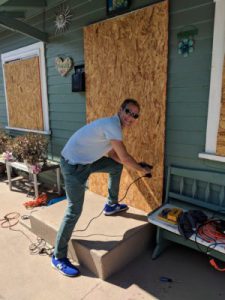 "When I met Diana, I was immediately struck by her courage and character, and her ability to explain her situation," Matthis said. "The story she told me and the documents she provided made me realize a serious injustice had taken place."
In mid-July, the Sheriff's Department posted a notice to vacate on Diana's home. After seeing the order, Diana immediately contacted the landlord's attorney to tell them there must have been a mistake. She knew for a fact that her family had been paying rent, and provided multiple rent receipts to the landlord's attorney.
However, one week later, the Sheriff's Department locked Diana out of her home with all of her personal belongings inside—including the specialized medical equipment she needs to maintain her quality of life. The landlord also boarded up the windows and doors.
Suddenly finding herself homeless, Diana began experiencing horrible indignities and serious health problems that she could not treat herself. But she quickly took action, turning to LAFLA not only for help, but also for justice.
"Diana came to see me during my office hours at a homeless shelter in San Pedro," noted Matthis. "After spending no more than 30 minutes with her, I found myself completely invested in her struggle and ensuring that justice would be done on her behalf."
Matthis believed the landlord had taken advantage of Diana. He immediately moved the Court to vacate the default judgment because the landlord did not serve her family with a copy of the lawsuit. The landlord contended that Diana's partner, Efrain, was personally served in Los Angeles County—however, Matthis produced government records showing Efrain was out of the country at the time.
Matthis also demanded that Diana and her family be allowed back into their apartment; and the Court temporarily restricted the landlord from re-renting the unit to another tenant.
On August 15, the Court vacated the judgment against Diana, and she went home that same afternoon.
"In anticipation of our success, I had actually brought my own drill and screwdriver bits with me to work that morning," recounted Matthis. "I thought to myself, 'this is great—how many attorneys get to go to work with a drill?'"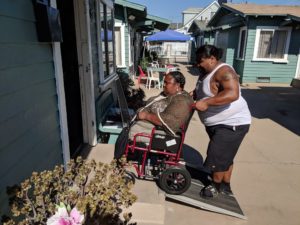 Later that day, Matthis personally removed the plywood from Diana's windows and doors, and her son, Jovan, rolled her back into their apartment.
Ultimately, Matthis tried Diana's case over two days in September, after which the Court ruled in favor of Diana and her family, and against the landlord.
Diana is now home and recovering from her experience as a wheelchair-bound homeless person, which took a very rough toll on her both physically and emotionally. She credits her faith and her willingness to joyfully endure hardship for her success; but also LAFLA for its perseverance and tireless pursuit of justice on her behalf.
"Sending Diana home and keeping her there is the single most meaningful accomplishment of my legal career," said Matthis. "I'd take the plywood off every apartment in Los Angeles County, if I could."