LAFLA understands that civil legal services are critical for veterans. LAFLA began offering free legal help for low-income veterans in 1999 through the Bill Smith Homeless Veterans' Project, which became the Veterans Justice Center. "LAFLA's Veterans Justice Center is proud to serve our veterans and their families. Our veterans risked their lives to keep our country safe and free and they deserve advocates to fight for them," said Veterans Justice Center Managing Attorney Ronnette Ramos. 
Our staff provide the full scope of LAFLA's services to hundreds of veterans each year — fighting for them to stay in safe and stable housing, get a fresh start, have access to healthcare, and receive a steady source of income, including service-related benefits. The U.S. Department of Veterans Administration (VA) provides disability benefits to veterans with mental or physical conditions that developed or worsened due to their service.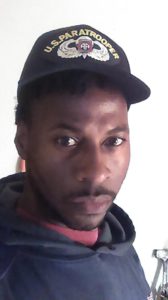 When Stanley first came to LAFLA, he had tried to prove his diagnosis of post-traumatic stress disorder (PTSD) had stemmed from his time in the military: "My claim kept getting denied by the VA." He had proudly served in the military during the 90s, first in the Marine Corps then the Army. His term ended early due to psychiatric distress. Since then, he has suffered severe symptoms of PTSD and struggled to maintain stability. Yet the VA had determined there was not enough evidence to substantiate his claim.
Veterans Justice Center Attorney Louis Truong helped Stanley file a request for a hearing with the Board of Veterans' Appeals. Years went by without word from the Board: "In February 2021, he called me out of the blue and let me know that the Board finally scheduled him for a hearing," said Louis. "I worked with Stanley to further develop his case. We were able to produce additional evidence regarding his PTSD."
"It was basically the first time I was able to talk directly to a judge about what I had experienced," said Stanley. "A few months later, I was notified that my claim had been approved."
Stanley will now receive VA disability benefits and several years' worth of back pay. "This is a big deal that the VA has finally acknowledged that his PTSD is service-connected," added Louis. "Stanley has been fighting this for years and has received treatment at the VA for his PTSD, but the Veterans Benefits Administration had refused to provide benefits for his condition."
According to Stanley, "If it were not for Louis and LAFLA, I think this process could have dragged on for years. I had no idea that it could proceed so quickly."
Now Stanley can focus on his artwork, for which has received widespread acclaim. Stanley began woodcarving in the Marine Corps: "It was the only thing that gave me real peace, real joy." Going by the name Odinga Tyehimba, he draws on African spirituality and exhibits his art around the nation. "It's been my therapy for all these years, the one thing that I used to process a lot of my internal issues," added Stanley. (Scroll down to see images of his artwork.)
Louis has advice for other veterans seeking legal help: "Veterans advocates may say you likely don't have a strong case, but that doesn't mean you should give up. What happens regularly is that a client will remember something months down the road, and that will lead to the discovery of important evidence for a claim. Advocates really mean that you might not have a strong case at the time, but that is always subject to change."
We are thankful to Stanley for sharing his inspiring story — and grateful to all veterans for their service, courage, and strength.
If you are a veteran in need of civil legal services, contact LAFLA at 800-399-4529 or apply for help online.