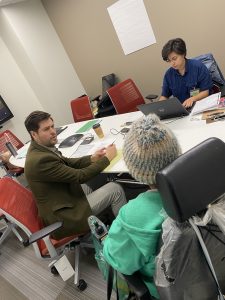 Legal Aid Foundation of Los Angeles celebrates the opening of our newest Medical-Legal Partnership (MLP) clinic, located at Rancho Los Amigos National Rehabilitation Center. The new clinic will connect low-income patients with the full scope of LAFLA's free legal services.
"We are excited to bring the breadth of LAFLA's work and expertise to Rancho Los Amigos, and for the opportunity to partner with its healthcare professionals to help their patients reach their optimal health," said MLP Managing Attorney Ronnette Ramos.
The opening is a homecoming of sorts for LAFLA which fought to keep Rancho Los Amigos from closing more than 15 years ago. Led by Executive Director Silvia Argueta (who was then a staff attorney), LAFLA and other advocacy groups sued the Los Angeles County Board of Supervisors, which threatened to close the hospital to save costs. Rancho Los Amigos has served poor and disabled Los Angeles County residents for more than 125 years.
The clinic opening comes as part of the expansion of the Whole Person Care – LA Medical-Legal Community Partnership. LAFLA oversees other clinics as part of the partnership, which received the 2019 Impact Award from the National Center for Medical-Legal Partnership. LAFLA staffers are available to provide legal advice to patients who are among the County's most vulnerable residents, including the homeless and those suffering from chronic medical problems. The partnership is designed to address legal issues—ranging from lack of housing to inability to get benefits—that could negatively affect patients' health.
The Rancho Los Amigos Medical-Legal Partnership Clinic is open Mondays and Tuesdays from 8:30–12:00 p.m. and 1:00–4:30 p.m., located in the Outpatient Building Room 3143 (3rd Floor). Rancho Los Amigos patients are encouraged to make appointments through the Social Work Department or may come in directly for assistance. Read more about LAFLA's Medical-Legal Partnerships.