National Telemundo correspondent Francisco Cuevas recently interviewed Legal Aid Foundation of Los Angeles attorney Daliah Setareh for a story on the growing number of children who have been denied Special Immigrant Juvenile Status due to an unannounced policy reversal.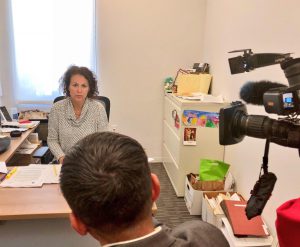 The interview came as a result of a recent New York Times story that examined children under the age of 21 who despite having been abused, abandoned or neglected, have been denied Special Immigrant Juvenile Status (SIJS) by U.S. Citizenship and Immigration Services.
To obtain SIJS, a child must be over 18, but not yet 21, and must have a civil court order stating that the child was abused, abandoned and neglected in the child's native country and that it is not in the child's best interest to return to the country of origin.  The Special Immigrant Juvenile Status then allows the child to seek a green card to stay in this country. Although such cases have been usually approved these past 10 years, officials in recent months quietly reversed this policy and have denied several SIJS requests.
In this TV news report, which aired nationally on April 19 on the Telemundo news network, Setareh tells Cuevas that LAFLA has represented many teenagers who were forced to flee their native countries to come to the U.S. because they feared for their lives. For many, securing Special Immigrant Juvenile Status is the only way they can gain legal status to remain in this country.
Click here to stream the Cuevas' Spanish-language interview with Telemundo.