At LAFLA's Veterans Justice Center, we provide holistic legal and social work services for veterans and their families. This unique approach includes defending against evictions, clearing citations and warrants, upgrading less-than-honorable military discharges and ensuring that veterans get the benefits they need to thrive. This legal aid is needed more than ever, especially since the latest Los Angeles homeless count found that veteran homelessness jumped 57%.
Read more about our services here.
---
Through the years, we've helped multiple veterans, including Eddie.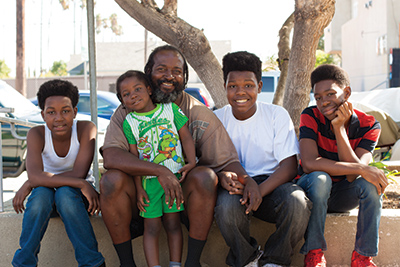 Eddie needed help. The single father of four young sons was living in a squalid apartment and faced imminent eviction. LAFLA's Veterans Justice Center social worker provided Eddie and his family with financial assistance to prevent the eviction, while an attorney worked with Eddie and his landlord to repair his apartment. But our advocacy didn't stop there.
While working with Eddie, we learned that he and his family lived on a very low and fixed welfare income of around $700/month. Eddie, an outstanding father, could not work outside of the home because of his family's needs. One of his sons, Jason, lives with significant learning disabilities, and Eddie spends considerable time tutoring him and teaching him life skills. Another son, Jazon, lives with severe autism and needs constant care and supervision. For example, whenever his father was not in the room, a panicked Jazon would bang his head against the windows, thinking he had been abandoned.
On his own, Eddie tried to access the resources he and his young sons needed to thrive. He applied for SSI disability benefits for his son with learning disabilities and applied for in-home care benefits for Jazon. But both Social Security and the county denied the claims. LAFLA Veterans Justice Center Attorney Nicole Perez appealed the denials and represented both sons at hearings, arguing that the administrative agencies erroneously denied the benefits. Through Nicole's efforts, Eddie's son Jason was awarded SSI benefits, Jazon was awarded in-home care with protective supervision, and Eddie began receiving a living wage to provide the higher level of care that Jazon needs to remain safe and functioning.
LAFLA's Veterans Justice Center is proud to provide holistic help to every veteran we serve, and we regularly hear from clients whose lives have grown immeasurably since LAFLA's support. In May 2017, Eddie called his attorney Nicole with the great news that he is now a homeowner!
Harel Altman, an army veteran, was suffering from ALS. Because he needed to use a wheelchair and lived in an inaccessible home, he was living in only his kitchen when he came to LAFLA. We successfully advocated for him to get income and healthcare benefits, a new vehicle, and significant home modifications to make his home accessible.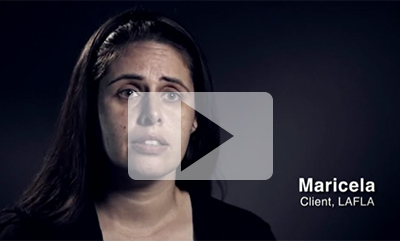 Maricela was raped while in boot camp, leading her life to spiral out of control until she was homeless and suicidal. When she applied for VA benefits for post-traumatic stress related to the military sexual trauma, her claim was denied. We fought for Maricela, appealed the VA's denial, and got her the benefits she deserved and needed to rebuild her life.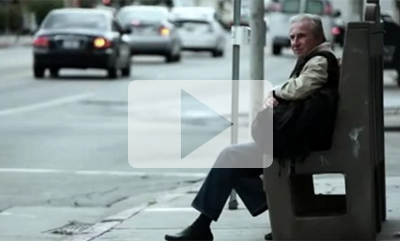 Jack is an army veteran who lives with severe post-traumatic stress from his service inside Vietnam. Because of this, he has been homeless for decades. We stood up for Jack and successfully advocated for him to get the VA benefits he needed to begin the process of recovery.
---
Our work on behalf of veterans includes:
Defending low-income tenants: Several veterans in a skid row building were being harassed and discriminated against. We helped put an end to the harassment to allow our clients to live in peace.
Stand Downs: For the past seven years, we've single-handedly spearheaded the legal services at the Compton Stand Down and other Stand Down events.
But our funding is at risk of being cut. More than 40% of LAFLA's budget comes from the Legal Services Corporation, which is under threat of elimination.