We are celebrating a major honor at LAFLA: The Whole Person Care – LA Medical-Legal Community Partnership (MLCP-LA), which includes LAFLA, received the 2019 Impact Award from the National Center for Medical-Legal Partnership. Our staff attended the Center's annual summit in National Harbor, Maryland, where they received the award along with our program partners—Los Angeles County Department of Health Services, Los Angeles County Department of Mental Health, Los Angeles County Health Agency, Neighborhood Legal Services of Los Angeles County, Mental Health Advocacy Services, and Bet Tzedek.
According to the National Center for Medical-Legal Partnership, "The collaborative spirit across all partners, alongside the development of a virtual MLCP on-line platform enabling linkage across the health and legal partners, together with a model high-traffic on-site clinic, is transforming the health, public health and legal landscapes in LA County and offers critical lessons for other cities, counties, regions, and states to consider."
"It is a great honor for the National Center to recognize that the MLCP-LA provides individually tailored, high-quality, and efficient necessary care," said Managing Attorney Ronnette Ramos (in the first picture, fourth from the right), who oversees LAFLA's medical-legal partnerships. "By training, learning, working side-by-side, and sharing data and resources, clinicians, community health workers, and attorneys can collectively advocate for improved policies and regulations that can ultimately improve population health."
Through the MLCP-LA—which is funded by Medi-Cal—Los Angeles County's most vulnerable residents receive free legal aid for issues impacting their health and well-being, including housing, government benefits, and family law. LAFLA staff assist patients at Martin Luther King, Jr. Outpatient Center as well as those referred through the Whole Person Care program's referral system. Since the start of the MLCP-LA in April 2018, more than 1,500 people have received legal assistance.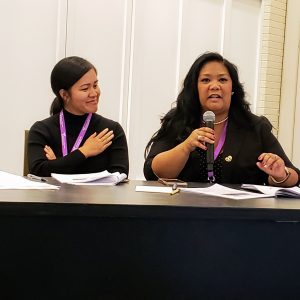 That includes Lorenzo, who first stopped by the legal clinic at the outpatient center in August 2018 for help with his traffic citations. At that time, Lorenzo was in treatment for a rare form of blood cancer. One year later, Lorenzo decided to move to the East Coast, where his family could take care of him. However, he had a court date the following month.
At this point, his case was still processing, and LAFLA staff were unsure what might happen if he did not physically present himself in court. Lorenzo was nervous as well—especially at the idea there might be a warrant out for his arrest. In late August, LAFLA staff were able to share a positive update: his traffic citations had been dismissed. Lorenzo can now focus on his health with his family at his side.
According to Ronnette, "This integration of legal assistance into patient care results in greater access to life-changing legal assistance for vulnerable individuals. I am looking forward to growing how legal advocates and health care providers work in tandem to transform lives by enforcing consumer and other legal protections to restore fairness, dignity, self-determination and self-reliance for Los Angeles' sickest and most vulnerable residents."
More good news: The MLCP-LA team recently learned the LA County Quality and Productivity Commission had selected the collaboration for its Top Ten and Customer Service Awards. On October 16, the Commission will name its Top 3 winners.
"I look forward to continuing the progress we are making as a medical-legal community partnership to upend the way we approach health and health care in our systems," said LAFLA Attorney Helen Tran (in the second picture, left), who serves clients at the outpatient center clinic.
You can read more about the 2019 Impact Award on the National Center website. You can also learn more about LAFLA's medical-legal partnerships on our website.