Pro bono attorneys have been crucial to bridging the justice gap throughout the COVID-19 pandemic. Since March of 2020, attorneys with Venable stepped in to help a domestic violence survivor — providing more than 600 hours on the case and achieving a successful outcome.
Our client had endured physical, sexual, and emotional abuse during her marriage. After escaping her husband, she sought a domestic violence restraining order (DVRO). Yet she feared representing herself in court against her husband who had a lawyer. The Venable team, which included Nicole King and LAFLA Board Member and former Venable partner Eric Bakewell, represented the client in her DVRO case and secured a stay-away agreement for the client.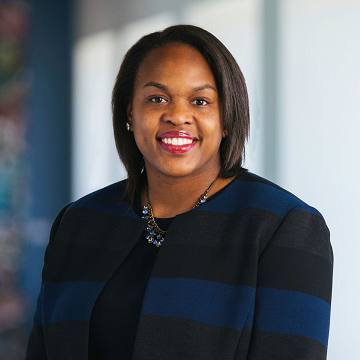 After resolution of the DVRO case, Nicole (pictured) and Venable partner John Worden successfully represented our client in her divorce case, which led to a two-day trial.  Nicole first-chaired the trial against "a seasoned family law attorney with 24 years of experience," noted Nicole.  Particularly, Nicole "caught the petitioner in several lies on cross-examination, ensured key evidence was admitted into the record, and enabled our client to tell her story on direct examination."
The judge issued a judgment declaring the parties divorced, adopted our client's date of separation, and ordered the ex-husband to make spousal support payments in accordance with the amount of time they were married. This was especially crucial since our client does not have legal status to work in the U.S., which her ex-husband was aware of when they married.
"Regardless of whether a case is perceived to be winnable or not, I believe that every client deserves excellent legal representation," said Nicole. "Often, people from marginalized communities, such as people of color, women, senior citizens, and the LGBTQIA2S+, do not have the opportunity to receive such representation. I became a lawyer to change that. I am a first-generation lawyer and have witnessed, prior to law school, family and friends who lacked the tools and resources to advocate for themselves in pivotal stages of their lives. This drove me to become a lawyer, so that I could adequately advocate for both myself and for others who cannot do so for themselves. Volunteering for LAFLA enables me to continue to champion this mission."
"Thanks to the incredible work of the Venable team, our client is now free from her abusive marriage and has court-ordered payments to help her regain stability and safety," observed LAFLA Supervising Attorney Julianna Lee, who oversees our family law work. "Just as important, her case is a good example of how real justice can be achieved (despite having multiple challenges stacked against her) when there is a zealous and committed attorney by your side. Having Nicole and her team represent her meant that she could finally be on more equal footing against her husband who had up to that point exploited all of her vulnerabilities to further his abuse."
Added LAFLA Pro Bono Director Phong Wong, "Pro bono service is essential to the work of LAFLA, extending our resources to help clients who would otherwise not receive expanded assistance at trial because of limited resources that have been even more limited due to COVID. Volunteers also help provide unique perspectives and strategic litigation approaches to address and navigate difficult cases to get positive results. Without volunteers like Nicole and the Venable team, our client would not have had this result."
We are incredibly thankful to Venable and its incredible team of advocates including Nicole for their diligence and unwavering support.
If you are interested in learning more about pro bono opportunities with LAFLA, visit our volunteer page or contact probono@lafla.org.